The Adventure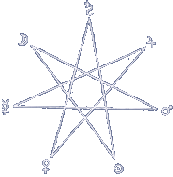 The origin of The Sevenstar is practically unknown, at least there seem to be no findings of a similar star from old cultures. Except we know the Caldaeic people of the middle east had their special knowledge of the Universe and astronomy, and they left us a Heptagram, the Chaldean sevenstar calendar. A celestial body for every 7 day of the week, Sun-day, Moon-day etc…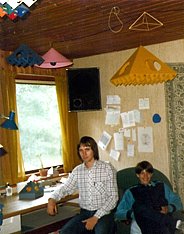 The adventure for me started in 1984 in the small town Rørvig in Denmark, where I had made a living out of designing and manufactoring pyramids, experimenting with energetic structures. Inspired and helped by a man, wise in ancient symbolism, Willy Fabricius, who called himself cosmo biologist, knowledge was rediscovered. Now all interrests were put on designing a unique sevenstar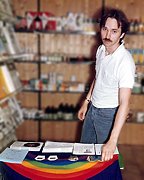 symbolism based on the Caldaeic calendar, and a series of Sevenstar products were ready in 1985. Massive great feedback came in from users. The next year production came into a bigger scale by, at that time, fancy computerized engraving equipment. I gathered studies of The Sevenstar and 365 user experiences in the book; 'The Sevenstar – The universal path to a better life and improved health'. Came out in three languages by my publishing company Cosmofelt 1992. A few years later the book; 'The Enigma of The Sevenstar', was published also in three languages.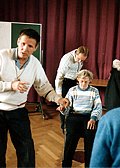 In 1985 I was accompagnied by Joachim baron Wedell-Wedellsborg, a former inventor, soon he would discover methods of treatments, and travel the country demonstrating The Sevenstar. Press was busy, many was impressed or provoked and it was both judged as bogus and condemned pagan. Joachim and his wife Kamma now have their domicile in the town Rørvig, where The Sevenstar was born. Still enthustiastic, treating nabours and friends with the new Sevenstar.
The former Sevenstars were mostly pressed in silver plated copper. The process was able to produce many stars, but the result did create tension in the metal, that distorted the mirroring effect. I was wondering how to make more user friendly, reflective and beautiful stars. Early 2011, I started out meditating how to create a more ideal Sevenstar. And by summer 2011 a whole new Sevenstar was a reality with optimized symbolism and and ideal materials, a special metal layer with a fabulous prism effect, merged to a very bright acrylic plate. The Sevenstar comes in two variants, same price, nice and simple for everyone. A necklace and a larger hand size. The new stars are more durable, versatile and powerful than the old ones, which are now happily discontinued.
Jørgen A. Jacobsen, designer of The Sevenstar 1985 – Redesign 2011 – 30 th aniversary design 2015