Sevenstar Books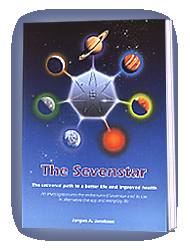 The Sevenstar – The universal path to a better life and improved health
Written by Jørgen A. Jacobsen 1987-1991 – Published by Cosmofelt 1992 – 96 pages with b/w illustrations.
English: The Sevenstar – The universal path to a better life and improved health – ISBN: 87-89774-01-9
Danish: Syvstjernen – Livskvalitet og helbred i en større helhed – ISBN: 87-89774-00-0
German: Der Siebenstern – Lebensqualität und Gesundheit in ganzheitlicher Betrachtung – ISBN: 87-89774-02-7
A brief word about the book
The aim of this study is on the basis of seven years of experience to examine the Sevenstar and its symbolism from a historical perspective. The range of uses of the Danish-developed Sevenstar (Cosmofelt/Sevenstar International) will also be explored as well as in which areas it may be possible to carry out scientific investigations into its effects.
The book attempts to paint a true picture of the Sevenstar's field of application based on written statements and literal transcriptions of conversations and accounts from a wide variety of people over an 18-month period.
An independent report is also included.
A number of Sevenstar quotations are used as headings and these are developed further in the text.
The investigation shows that most people who have used the Sevenstar assign to it a range of positive effects, both mental and physical. The range of these effects can be seen in the index of experiences (pp. 21-29). It has been found that the Sevenstar has generally been acquired after recommenda­tions from friends and acquaintances or from an alternative practioner. Most people expect that they should possess some sort of faith to obtain positive results. It often happens, however, that it is precisely people without this "assumed" faith or expectation who are surprised and get the greatest benefit from the Sevenstar.
The investigation has been carried out by the undersigned, a qualified KINESIOLOGIST and laboratory assistant, who besides the Sevenstar has previously developed a range of special pyramids and healing armbands.
Jørgen A. Jacobsen
October 1991
Written by Virtus Schade 1994 – Published by Cosmofelt 1994 – 96 pages rich with color illustrations.
English:  The enigma of the Sevenstar – ISBN: 87-89774-03-5 (ISBN-13: 978-87-89774-03-9)
Danish: Syvstjernens gåde – ISBN: 87-89774-03-5
German: Das Geheimnis des Siebensterns – ISBN: 87-89774-04-7
The enigmatic Star
The sevenstar: Probably of Chaldean origin, spanning through the ages, long before the birth of Christ, though it also has a more recent history. Rediscovered only a few years ago, until today, where its indefatigable friend and presenter, Joachim Wedell-Wedellsborg, baron and descendant of Gorm the Ancient (first historical Danish King) and who's family linage is saturated in Danish history, has not only further developed the star's shape and materials, but also – sometimes in serious doubt himself – found new possibilities, for what one almost could call its "miraculous" effects.
Virtus Schade, well known journalist at the Berlingske Tidende, and author to a long succession of books, has written this book about the baron's adventurous life, from the moment he finds himself at the bottom of the Rhine, and had therefore reached his absolute zero point, til today when he is about to see his Sevenstar reach its Zenith.
Apart from being informative, the book is also exciting reading – and is the result of a meeting between two strong personalities: The autor and the main character.